Asylum 7
This is a post about my overall experience at Asylum 7 in Birmingham. I don't consider this a report but my thoughts. If you find mistakes please forgive me English is not my first language and my word grammar and spelling correction doesn't work.


This was my first Supernatural con and probably my last. My journay begins from Athens, Greece. Unfortunately, there isn't a direct fly to Birmingham so we (me, my sister and my aunt) ended up in Munich which was very foggy. From Munich we flew to our final destination. This thing messed me up a little bit. We strolled in the airport and after asking some people we found the monorail that leads to the train station and from there you can access the hotel. I loved the monorail! Anyway, we found the Hilton bus, we arrived at the hotel, we checked in but only one of the two rooms was ready so we went there and rest a little bit.
We had registration at 4 o'clock. We were really bored so we opened the tv and on a channel there was CSI. It was the Misha episode. When we saw Misha Collins we were like "yeah! This weekend started so good!". My aunt left to go to her room.
After registering which took a lot of time we waited in a line to get out prepaid photo ops and concert ticket. I wanted to buy just one Misha coffee lounge ticket. I knew that wouldn't happen because I was group L and my registeration was at 4 but coffee lounge tickets were sold at 3 o'clock. Any way, I am used to my bad luck. After a while we were informed that the prepaid stuff were obtained on Saturday morning. However, we managed to get my sister a gig ticket because she had changed her mind.
We spent our evening walking ouside. The lake was wonderful but very dirty. We later went to our rooms and slept because we were exhausted.
On Saturday we ate our breakfast after arranging the issues with the tickets and all. We waited in a huge line to get in. Our seats weren't the best but we could see pretty well. We watched the ghostfacers episode with Castiel and the next part with the convention that hasn't been aired before (I think). The presenter who was very funny welcomed all the guests and the con began.
Since I don't remember in which panel things where said I will present you both days.
Misha Collins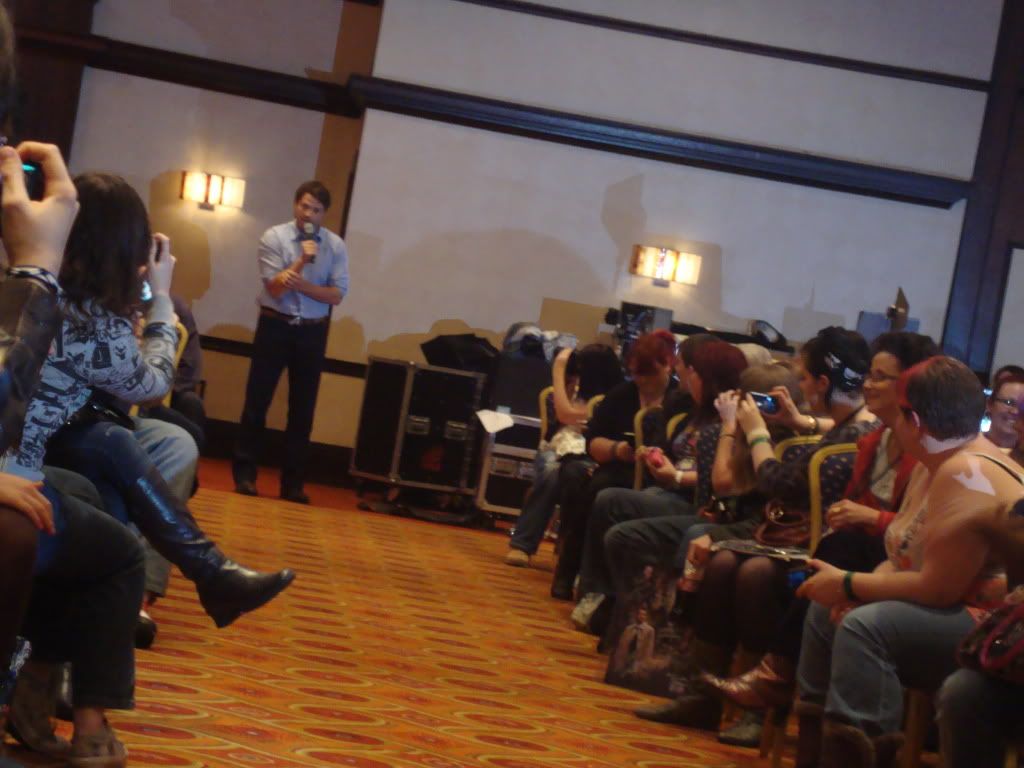 Misha... He was the reason that I attended the con. He was as I pictured him. He was funny, warm, good-looking and his usual self. There are a million tone things about him. I just adore him. He talked about Devine, about not being on Supernatural anymore, about if he prefered playing God or the Levi!Cas (he said God), he shared his engagement story and he talked about West. He said he was sad that he was missing his son's first Halloween. He said that West was going to dress as zombie because of his walk and he demonstrate it. Also West said his first word which is dog. On his first panel there was his friend Darius and he mocked Misha about breast feeding until he was six. He told us about his godson revailing this to some big shot names while visiting a set. Darius and Misha shared a story of Misha being sick and lying to his mother and Darius covering everything up and at the end of the day pranking his mom. A man asked Misha a question. Misha was confused since men are a rare thing to see at cons and he procceed saying "Sir". There was a point he talked about Supernatural in 50 years or so, Sam and Dean being old and in wheel chair. Misha seems angry about him killed off that way. He even flipped his finger. He sang Happy Birthday to both of his panel, the second one being the best because of the most adorable girl ever. I'm not going to say anything else since you'll find them everywhere.
Rob Benedict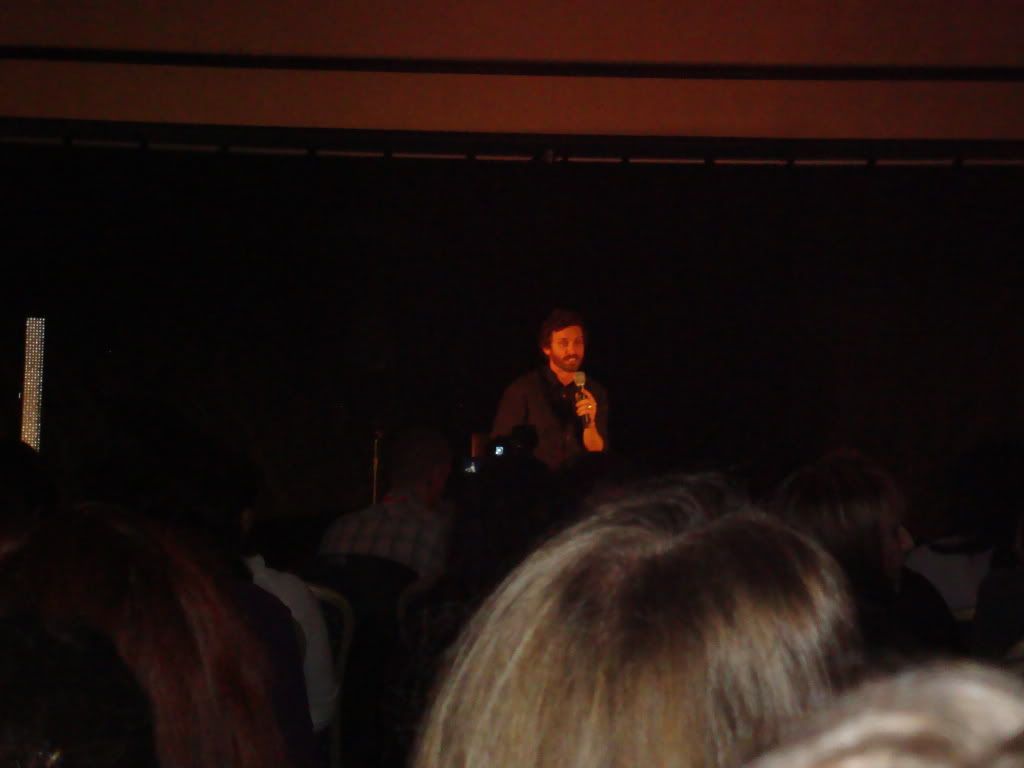 He was a lovely guy. He talked about his band, his inspiration as a song writer and about being God. Someone asked him what superpower he would like to have and he said running fast and demonstrate it. Later someone asked him which God he would like to be. He said Achilles because he could run fast and had wings on his feet but I think he meant Hermes, no he definately meant Hermes. Anyway he talked about being a super fan of Star Wars and passing his love to his son and a big Buffy fan. He said that he had studied French but didn't remember a thing. For him it didn't make sense. He would prefer to learn Spanish since 50% of the people in L.A. speak Spanish. He told us that he is excited to tour Europe with his band. He talked about places he would love to visit like Scotland. He was asked which Hogwarts house he wants to be in and he said definately not in the one with the blonde kid because he seems evil. He said he wanted to be with Harry and that cute girl. He hasn't read the books nor seen the movie but he will do it because they are very popular. He told us that his size was the reason for his humour and that his son when saw the episode "The Real Ghostbuster" asked him "why is this big guy (Sam) is yelling at you?". Also he shared the story about his son telling his teacher that he is an adult actor.
Mitch Pileggi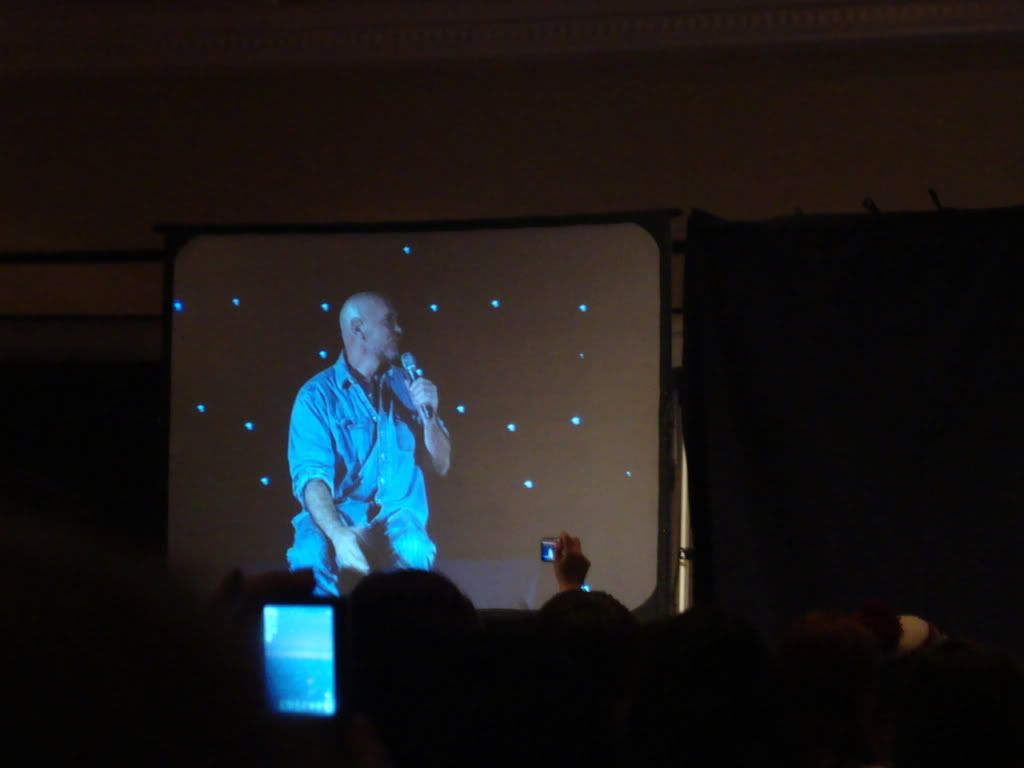 He surpised me! He is so awesome! His panel was one of the best. He was a sweetheart believe it or not. He was asked about tv shows he has been, X-Files, Criminal Minds, Stargate and some others. At the end of every question the fans said thank you and he replied "You bet". After five times he noticed it and requested to slap him if he said that again. On the screen it was written "Slap him". He talked about how weird it was to kiss Mary and how sweet Amy was. His favourite scene was a love scene not only because the girl was pretty but his future wife was there so was his ex-girlfriend which made it awkward. His favourite role is the one in Criminal Minds and he watches it often. On his first panel a boy asked him something but he couldn't answer so he told him to sit down. The next day he apologised and said to the boy that he was thinking abou it the night before. At some point he said that he is here with his wife and his daughter who where in the city boosting the economy. But what striked me as awesome was the question about his Haloween costumes. He replied his wife liked dressing up with sexy outfits which was fine for him. One year we wore a plumber's uniform and painted a lighting on his forehead like Harry Potter. He named it plumber Harry Potter; Harry retired magic and became a plumber which was his dream. Moreover, he described Jared as a big kid and talked about his friendship with Kim Manners. Lastly, he said he was going to work in a remake with Jensen's father.
Julian Richings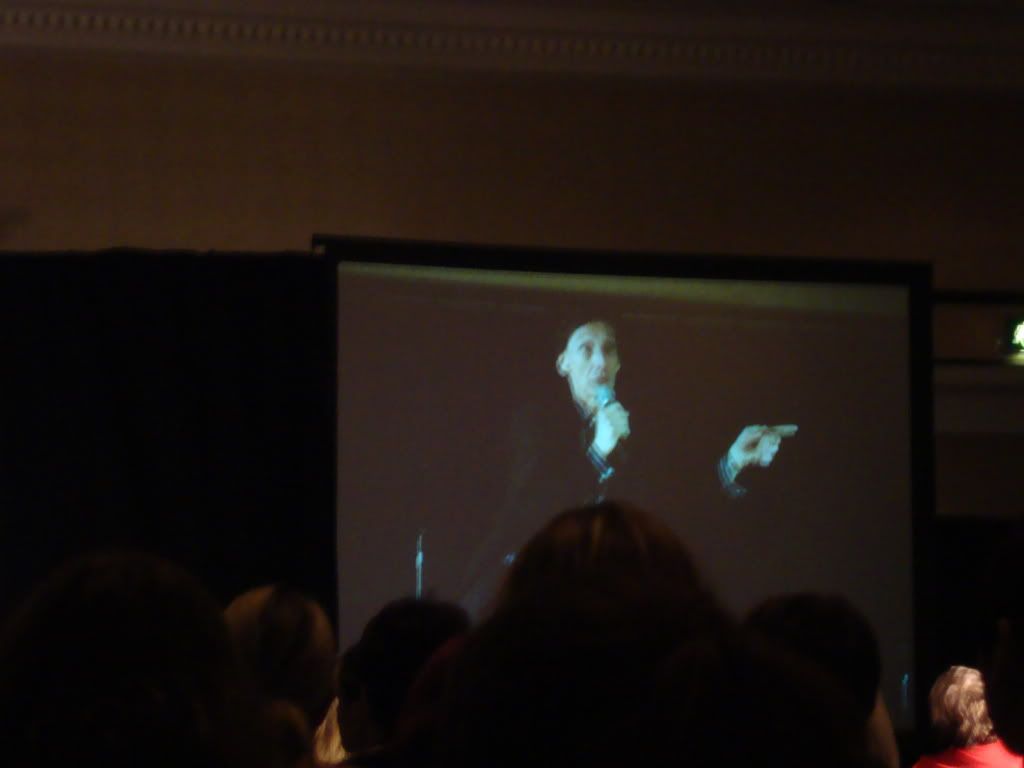 Who knew Death would be so charming. He was the exact opposite of his character. When I went to get his autograph he was very polite and always smiling. A big issue that he talked about was food and Death's love for it. He shared tips about acting and how he met his wife which is the reason he lives in Toronto because he is originally from Oxford. He was touring with a theater presenting a mixture of dance and act. He said that he started picking up his accent again due to a phone call to his mother. On the panel with Katie and Lindsey he said that the most embarrassing role for his kids is the ad for Canada and how different it is from the U.S.A.. A remake in which he would love to play is an old horror movie that I have forgotten its title. At his Sunday panel, when it was over the presenter came to collect them (him, Katie and Lindsey) and someone shooted "Kill him Julian". So, Julian turned his back and cleaned his shoulder just like in the first episode he was in and the presenter fell down. It was priceless! At some point Misha crashed his panel with the two girls and asked in a British accent if it was inspiring working with Misha Collins. They all agreed that Misha aspired them. Since then Julian's answer for everything was Misha. He was asked if played a gay man who would be his partner and he answered Misha. He was asked if his life was turned into a movie who would portray him he answered Misha.
Amy Gumenick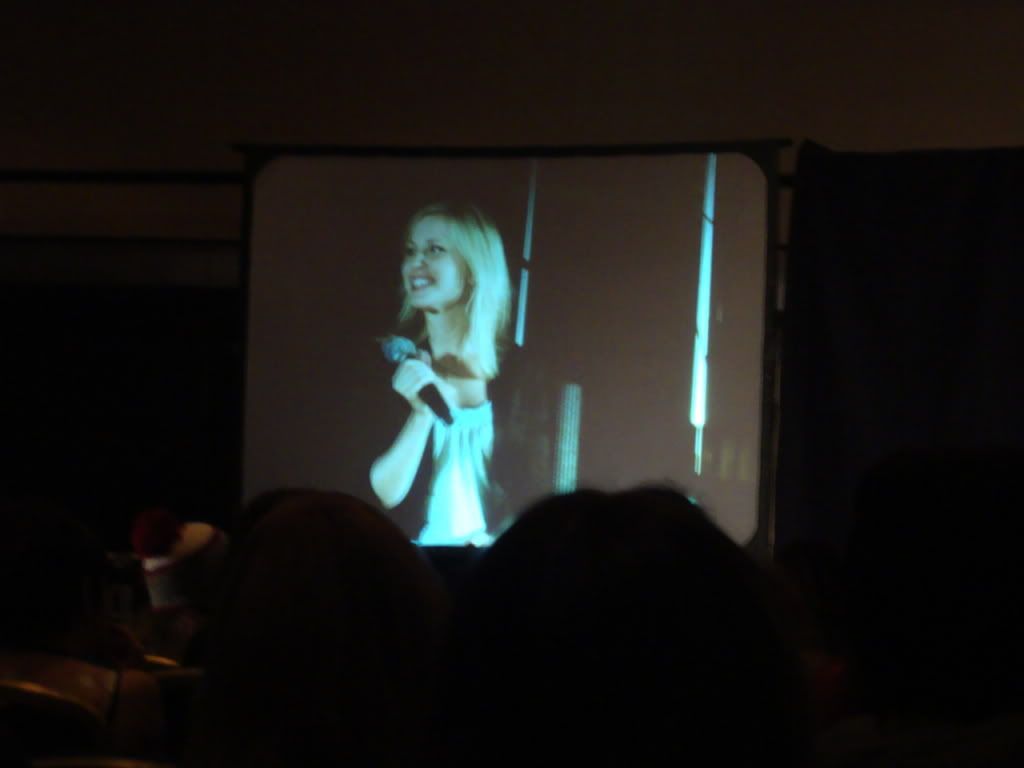 She has the most beautiful eyes ever. She is sweet and gorgeous. She talked about kissing Mitch and that he sees him as a father. She tried to convince as that everything was normal but at the end she ended up in the same thing. It was a father-daughter kiss. She continued on saying that she let Mitch do all the work. She shared two funny stories from the set. First, on the scene with John (Matt Cohen) as Michael she was put to sleep and was laying down. She had to be in the entire scene of Dean talking to Michael because her legs were visible. She was given a pillow to put her head to feel comfortable. However, she starting to feel sleepy and she was scared if she slept they would hear her snoring. The second story was about Jared thinking he is a vet. There was the scene in the impala in which she had to be very emotional but Jared decided it was the best time to talk about an operation for his dog. He ever called Gen to guide her through this. Amy was marked for life. She is a big Beatles fan and wanted to sing "Hey Jude" but they couldn't get the rights. The roles she would like to play would be Natalie Portman's character in Black Swan and anything by Meryl Streep. Furthermore, being the younger version of Mary doesn't mean she is replacing Samantha Smith but she is showing another side of her. She praised Samantha and considers her a friend just like some other member of the cast she met in conventions. Her only complaint was that she wasn't pranked by Jared and Jensen, maybe it's because she is their mum. If she wasn't Mary she would like to be Ruby or Anna. She attended Julie McNiven's wedding and Julie's dad who according to Amy was a little scary asked her "Are you the one who tryied to kill me daughter?" and Amy was about to cry. Someone asked her, Katie and Lindsey Sam or Dean. Katie said Dean, and Lindsey Sam (but I am not sure) and Amy said that a mother can't choose between her children! She admitted that when watching Supernatural she at times thinks like Mary.
Lindsey McKeon
She is such a bad-ass girl. To show you how bad-ass she is, someone asked her, Amy and Katie sleep, marry and kill for Jensen, Jared and Misha. Katie spoke first saying sleep with Jensen and then Amy marrying Jensen so she can sleep with him whenever she wanted to. Lindsey replied that she would kill those two so she can have Jensen herself. If only she had her own panel. She loves Angelina Jolie and wants her to portray her if her life was ever to became a movie. She claimed that Jensen was a good kisser and has soft lips. Her guilty pleasure is chocolate. If she could play in a remake that would be Princess Bride. She said that when she needed a job Supernatural was always there to "save" her. She was asked about the yellow-eyes and how difficult it was to see; they did more than 20 takes of the scene to get it right. Her role that people recognize her from is from 70's show. The role that she was most embarrassed about was in a film that no one knew and she said exactly. At the autograph session she asked me where I came from and I told her and she told me she had a friend from Greece. I was worried at first that the women in general wouldn't be enjoyable. She proved me wrong.
Katie Walder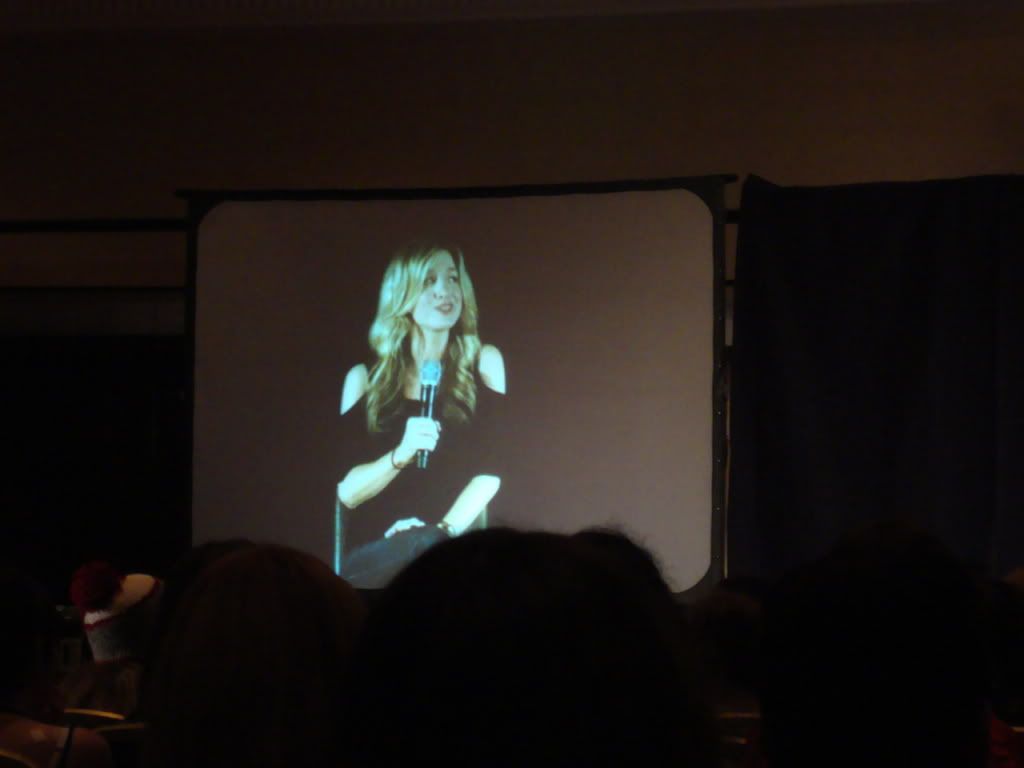 She was my con favourite (except Misha, he is the best). She is very beautiful, fun and loving. Her smile is big and bright. She is like miss Sunshine. She is down-to-earth and we are very lucky to have her on the show. She loves Sex and the City, she even fangirled when seeing Mr. Big one time. She never expect that landing a role on Supernatural she would have so much following. What amazed her most was that when she tweeted -claims that she wasn't a big user- that she was going to be on episode she gained 3.000 followers. If someone was to play her she would like to have Evan Rachel Wood for her teen age life, Rachel McAdams for her twenties and Sarah Jessica Parker for later years; all those three because she loves them. She seems a big Ryan Gosling fan, so does Lindsey who spoke a big truth " Women love Ryan. Men love Ryan" . When she got the part she researched about Fate and she admitted that there was sexual tension between Fate and Castiel. She was asked about Gilmore Girls and she said she had seen Jared in the reading tables but never actually work with him. A remark she made about that show was that you always need to talk faster even if you think you talk fast enough. Her guilty pleasure is checking her feedback on Facebook. Correct me if I'm wrong, the remake that she would like to star in is Notebook. The most embarrassing moment of her career was a short film that her character got a boob job and at the end she died.
GIG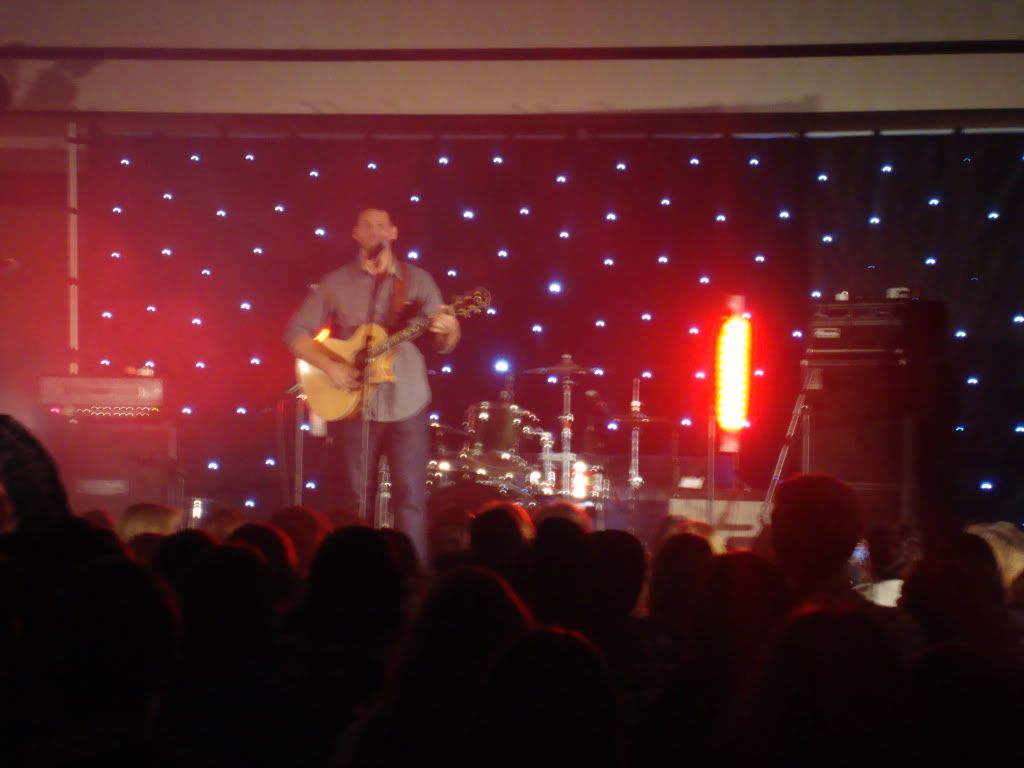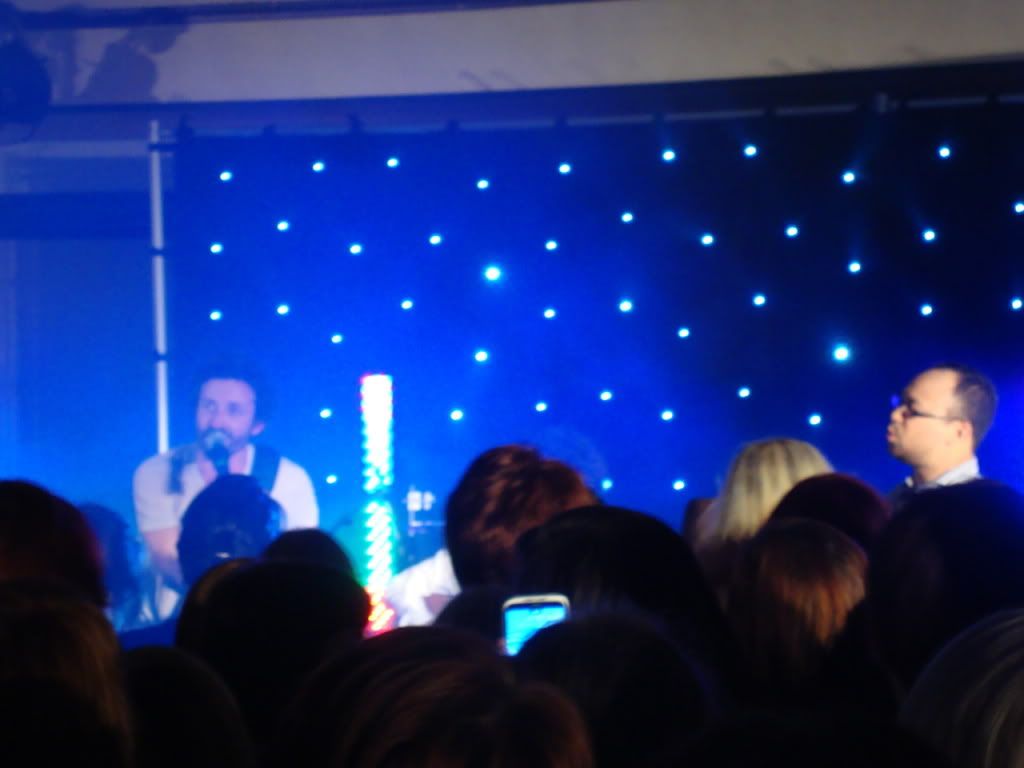 First was Jason Manns. He is a good singer, he sang some awesome songs but to tell you the truth this type of music isn't my favourite. When Louden Swain came out , the people that were sitting in front of the stage stood up and bloke the view for us who sat in the tables. They were great. Plus, the sang my favourtie Rolling Stones song, "Sympathy for the Devil".During their performance Julian and Misha danced which was awesome. A side note: my sister didn't like Misha nor Castiel but after his first panel she was like "I LOVE HIM, I want a photo with him too". On the concert she was like "who cares who sings I will watch Misha!".
On Sunday after the event had finished we went to the airport to eat something because it was afternoon and we had only eaten breakfast. If ever get to go to the Hilton Metropole Hotel, take room service and request for pizzas. They were so delicious. (we had one on Saturday).
On Monday we left. Our flight stopped on Zurich. On the plane we saw Paris and the Alpes which was great. We had 4 hours in Zurich so we bought chocolates for relatives and friends and of course for us. At midnight I was back in Athens with a jet lag.
The guests were awesome, the fans too. Rogue Events and the people behind it did a very good job (aside from the coffee lounge problem).The only thing that would have made the trip perfect would be my camera not taking so crappy pictures.
Photos by Rogue Events and my stupid camera.